Sequoia Christian Preschool will offer a safe, clean, and nurturing environment. We will teach the fundamentals of learning along with the basic principles of God's Word.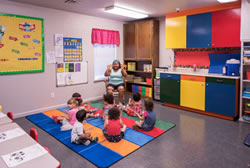 Our qualified staff is dedicated to facilitating each child's early childhood development. We will reach out to help each child and their families experience the love of God.
We exist as a preschool for the purpose of providing a loving environment where each child may develop physically, mentally, socially and spiritually. We are a Christian preschool where Biblical principles and morals are taught.